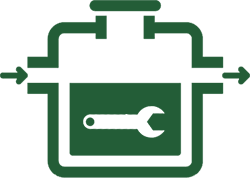 Septic Tank Installation Bruton
If you need septic tank installation in Bruton or a nearby area, then get in touch with Wessex Drain Services Ltd. We can install, repair and replace cesspits and septic tank systems in Bruton and the surrounding areas including Redlynch, South Brewham, Upton Noble, North Brewham, Kilmington, Batcombe and Wincanton. Whether a housebuilder or homeowner, choose our experienced team for professional, affordable and timely installations. We promise to cause minimal disturbance and deliver the perfect septic tank solutions for your property.
Do not hesitate to get in touch with our informed team today if you have any questions.
Certain properties situated in remote locations may be too rural to connect with the main sewerage systems. In these instances, it is important to have a septic tank installed, which offers a traditional and effective sewage treatment process, passing waste into the tank for secure and hygienic storage. Here at Wessex Drain Services Ltd, we specialise in septic tanks and offer a septic tank service that is both affordable and comprehensive, including:
Maintenance
Tank installation
Tank repair
Septic tank inspections
Have you been experiencing issues with your septic tank and suspect it could be damaged? If so, we offer a fast response and can provide a septic tank repair at a competitive price. While common problems with septic tanks include blockages within the system, it is important to have your tank inspected for more serious issues. If damage has occurred, it will need to be repaired as soon as possible.
We can perform a septic tank health check and offer septic tank repair that is both effective and timely to ensure safe and sanitary storage.
It is important that you are aware of 2020's septic tank regulations. There is a new regulation that has changed the rules for properties that have septic tanks, demanding that:
Septic tanks should not discharge into watercourses (January 2015)
Homeowners with septic tanks need to abide by this regulation. They can comply by connecting septic tanks with the main sewer network, forming a drainage field or having a sewage treatment plant installed (1 January 2020)
Therefore, if you are putting a property on the market, it is vital you abide by the law and ensure your septic tank complies with the regulations, to avoid future penalties.
When cesspits are installed incorrectly, without a proper concrete enclosure, or situated too near to trees, the walls of the tank can be damaged. This will result in unnecessary repair and replacement costs. Here at Wessex Drain Services Ltd, one of our experts can install your cesspit tank to the highest of standards, preventing pollution and ensuring a durable and cost-effective solution.
We offer complete and expert services for affordable costs. So, if value for money is what you are looking for, choose us.
Contact Wessex Drain Services Ltd
Contact Wessex Drain Services Ltd if you need cesspit or septic tank installation in Bruton or a nearby area.