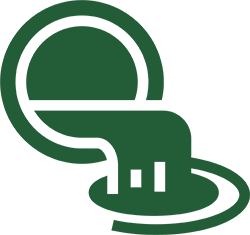 Sewage Treatment Plant Bruton
If you need a sewage treatment plant in Bruton, make Wessex Drain Services Ltd your first call. We design, build and install sewage treatment plants for residential, commercial and agricultural customers. We fit a wide range of sewage treatment systems, from submerged aerated filters and trickle filters through to sequencing batch reactors. Sewage treatment plants treat wastewater so it can be discharged into drainage fields, watercourses or, with a permit, to a soakaway.
Contact our informed team today to learn more about our services and we will be happy to assist you.
Sewage Treatment Plant Installers
Our sewage treatment plant installers can install sewage treatment plants in many areas, including areas that would not be suitable for septic tanks. For instance, sewage treatment plants suit areas with clay ground and groundwater protection zones.
Here at Wessex Drain Services Ltd, we supply submersible pumps for moving sewage through hoses from septic tanks to sewage treatment plants. Submersible pumps can be installed even on compact sites; are dependable and an affordable solution, with the only expenses including installation, power and maintenance.
Sewage Treatment Plant Types
We build and install many sewage treatment plant types for treating wastewater, from activated sludge process plants to trickle filters, to suit various properties and requirements, including:
The activated sludge process (ASP) involves oxygen or air blowing into sewage (aeration) to reduce solids to a soup-like substance. This process enables the bacteria in the fluid to lower the pollutant level. Since they do not have a main settlement chamber, these sewage treatment plants do not emit foul smells or need to be emptied very often. After the sewage undergoes this process, excess liquid transfers to a clarification chamber. In this chamber, live and dead bacteria separates, leaving a clear fluid in between. The clean water then moves into a drainage field, watercourse or soakaway.
A sequencing batch reactor passes oxygen through activated sludge and wastewater in batches, minimising organic matter. The effluent is then safely drained away.
A trickle filter is a main settlement chamber containing solids where anaerobic digestion occurs. Clarified water moves from the primary chamber to a secondary chamber, dispersed across the suspended filter media and absorbed by aerobic bacteria. The clarified water enters the last chamber, where the effluent is discharged.
The submerged aerated filter also has settlement chambers wherein anaerobic digestion takes place. Filtered water moves from the primary to the second chamber where there is a submerged media. In this second chamber, the filtered water is treated to clean the effluent. The treated effluent moves to a final chamber where it can exit at the surface of the cell.
Contact Wessex Drain Services Ltd
Contact Wessex Drain Services Ltd today if you need a sewage treatment plant in Bruton or a surrounding area. Whether you are based locally or in a nearby area including Kilmington, North Brewham, Wincanton, Upton Noble, Redlynch, South Brewham or Batcombe, we can help.